Here is another 125cc model from bajaj (quite unnecessary) after their successful 125cc version - bajaj discover. Bajaj discover has their 112cc and 135 cc variants.
This bike looks a mix of both pulsar and discover.. The tail light design is somewhat similar to the pulsar while the alloy wheels are of discover.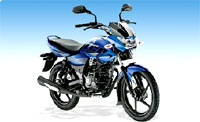 Price of Bajaj XCD 125 cc DTS-Si :- around 45k on road and the mileage under test conditions is given to be 109 kmpl which sounds great..